Gert Voorjans x Jim Thompson
Bangkok, Thailand, 2018
Jim Thompson has collaborated with interior and architectural extraordinaire Gert Voorjans to create an exuberant fabric collection. Sharing Jim Thompson's penchant for vibrance, colour is a key component of Gert's designs. His schemes are notoriously unconventional, always innovative and surprising.
Gert Voorjans for Jim Thompson is no exception, aiming to seductively lure interior designers to embrace exciting and daring combinations in their projects. A whole spectrum of colours have been mixed together in order to create inviting rooms that are warm, artistic, livable, and one of a kind.
Aurelia
A fantastical celebration of color, Aurelia takes its inspiration from Gert's favorite colour pairings that are featured in his home. This ebullient ten-color satin stripe is woven in Jim Thompson's classic two ply textured silk.
Framing the main entrance to the Jim Thompson House are Aurelia (left) and Sarabande silks by Gert Voorjans for Jim Thompson. Photo (c) Richard Powers - as shown in Elle Decor, July-August 2018
Sarabande
Sarabande is named for the lively Baroque dance in triple meter. Full-width brushstroke stripes that are reminiscent of expressionist paintings are printed in saturated colours on Jim Thompson's classic one ply textured handwoven silk.
Frangipana
Frangipana is a contemporary update of eighteenth century European damask decoration. Its saturated colors are woven with softly textured, matte yarns, in a weight that is suitable for upholstery and draperies.
Square Dance
This charming rustic plaid is reminiscent of traditionally woven checked textiles, now updated in a palette of unexpected color pairings.
The blend of linen and viscose makes for a naturally textured and strong upholstery fabric that plays with the other decorative elements featured in this collection.
Anastasia
Inspired by an antique European tapestry displayed in Gert's chic Antwerp home, Anastasia is a modern rendering of a three-meter decorative curtain panel that is printed in a contemporary palette, for flowing draperies or statement wall upholstery.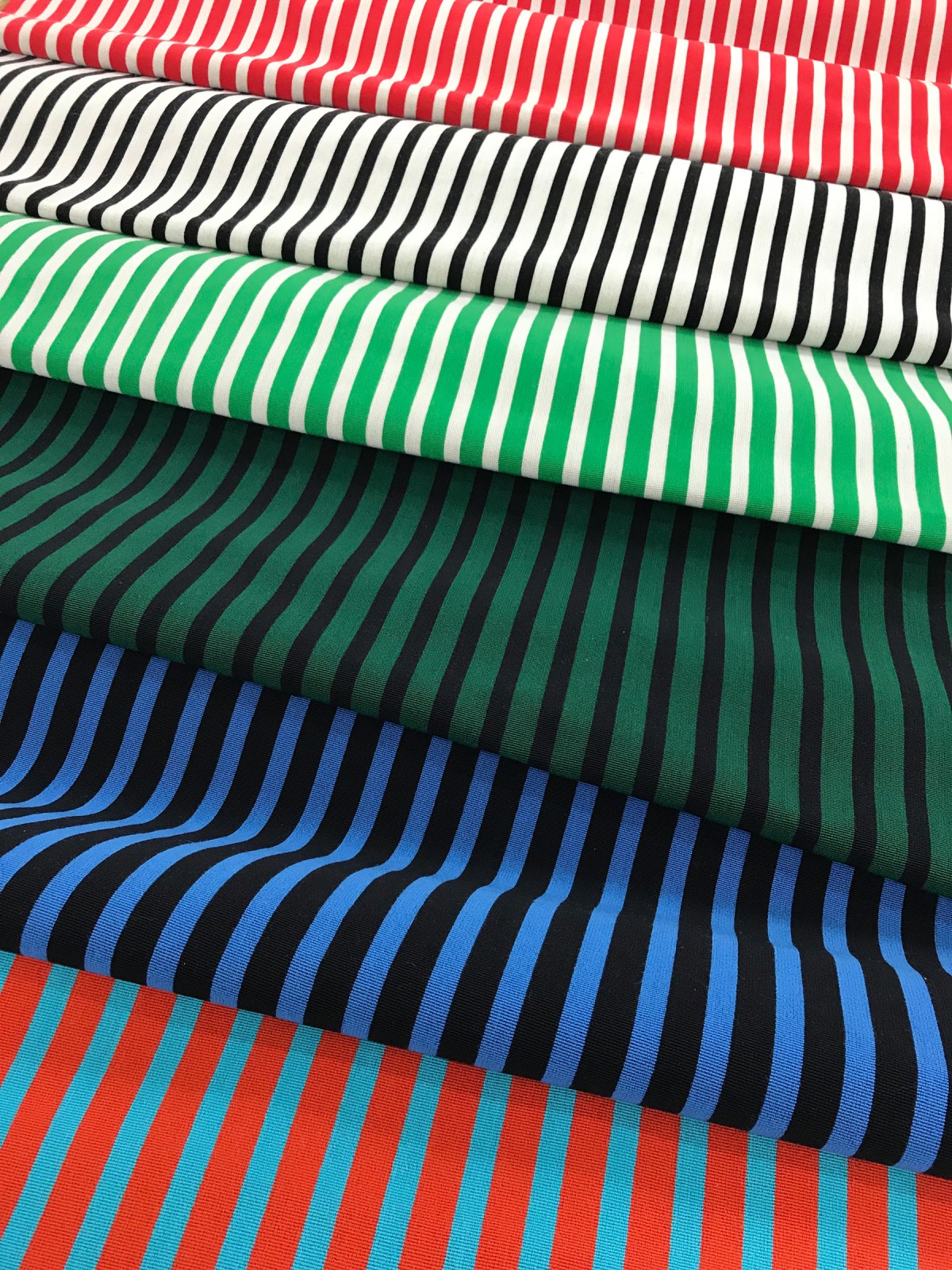 Aeneas
This classic épinglé stripe is handsomely colored in bold two-color pairings. The dense pile of quality wool gives it a dry, full-bodied hand and exceptional performance, making it perfect for upholstery in creating sophisticated, layered schemes.
Ondine
Inspired by the work of Fauvist artists from the early twentieth century, Ondine is a painterly print that depicts theatrical floral frames in vivid colours. Printed onto a casual linen ground with Teflon stain repellent finish, Ondine creates dramatic and effortlessly chic draperies.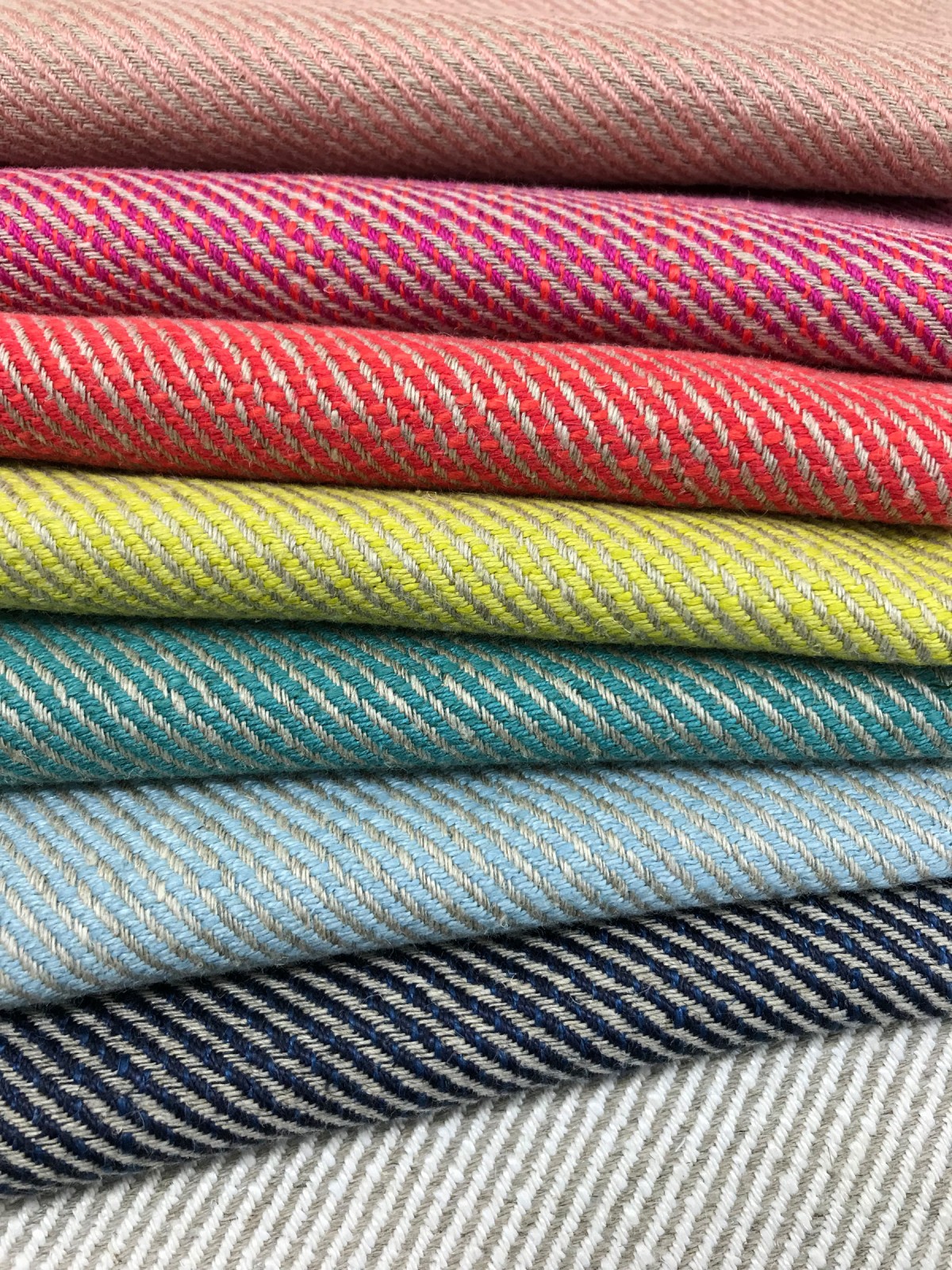 Stage
A simple and elegant linen twill weave contrasts with playful and brightly colored cotton. Washed and Airo tumble-finished for a soft hand, Stage is ideal for upholstery or full draperies.
Petrushka
This luxurious linen loop and cut velvet upholstery fabric is rich in both color and texture. Its large-scale motif is inspired by the fantasy world of color and amusement that is presented in Ballet Russes' production of 'Petrushka'. Woven by skilled Belgian artisans, this design is a highly coveted piece within the collection.
Vermeer
This charming take on traditional Dutch Delftware tiles features mythical creatures instead of traditional scenes of domestic life. Printed on a natural linen ground, it is colored in shades of authentic Delft Blue and Manganese Delft Red.
Night And Day
This nostalgic print is patterned with a delicate trail of ivy against light and dark grounds that depict its garden foliage during night and day. Printed on a naturally textured linen and cotton ground that is chintz finished, this charming design mimics traditional floral textiles of eighteenth century Europe.
Garden Party
This painterly print features a fanciful garden filled with an abundance of fruit. The brilliant colors and flowing linen ground enhances the lively spirit of this playful design.
Melusine
Melusine is named for a fairy-like fresh-water spirit of European folklore. This enchanting landscape print features luxuriant vegetation, which is painted with flowing brushstrokes in a palette of unexpected, dreamy colors that are reminiscent of the mythological creature.
Dido
Woven with a sophisticated medley of colors and textures, this contemporary twill beautifully complements other decorative patterns in this collection. The scale and wearability makes Dido a fresh update for upholstered furniture.